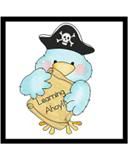 Hi everyone!! I am so excited to be writing a guest post for Smart Apps for Special Needs. My name is Caitlin and I am the owner of the blog
Learning Ahoy!!
I have been teaching special education for 9 years and my passion is working with students who have moderate to severe disabilities. I am also a wife to Chris and a mom of 3 boys (ages 7, 4, &1).
In my classroom we use the iPad DAILY. It is not only used as a reward, but as a communication device, learning tool, teacher organization tool, and a remote for the projector. If you are a follower of this blog, then you know that there is literally almost an app for everything you can imagine! Today I am going ot highlight some of the apps I use daily in the classroom.
When first introducing my students to the iPad I like to use cause and effect apps. In this way, students simply need to touch the screen to receive input from the device. A favorite this year is
Peekaboo Barn
by Night & Day Studios. I have a student who still uses this app daily as a reward. I really credit this app for gaining his interest and helping him learn how to use the iPad.
Another app we use is
Tozzle
. Tozzle is a puzzle app that you can set to baby or toddler. Some of the puzzles are just like the generic peg puzzles that I have in my classroom, while others have multiple layers.
Last year, I was blessed with getting an interactive projector in my classroom. This projector uses a whiteboard (not a Smartboard) and the special pens are what make it interactive. I love using it, however the pens sometimes are not the most reliable (and access to my teacher computer is through a maze of papers and piles), so one of my great ITs introduced me to an app called
Splashtop
. Splashtop enables me to mirror my computer screen to my iPad. I can then use the iPad to interact with my computer to click on links, etc. With the projector turned on the kids can see everything. The kids can also use the iPad. This enables us to play games on the web on the projector, but because we don't have to use a pen, EVERYONE can be involved. Those students who previously could not reach the board or did not have the fine motor skills to maneuver a pen are now able to touch the iPad screen. This can also replace an expensive touch screen on a classroom computer by utilizing a device you already have.
Some other apps we use on a daily basis are
Alien Buddies
,
Elmo loves ABC's,
Elmos love's 123s
, and as a teacher I use
Dropbox
and
Copy
. (You can view a tutorial about
Dropbox
on my blog.)
I would love to have you come visit my blog and learn about other fun things we do in my classroom! You can find me at http://learningahoy.com and also on
Facebook
.
Thanks for reading!!