Lego bricks have been around since 1958 and have twice been named "Toy of the Century." From amusement parks, to apps, to movies, Legos have come a long way from the simple little plastic brick. There is much to be said about a product that has been around for this long and is still beloved by so many. Recognizing the potential of these small pieces of plastic,
FreeHomeschoolDeals.com
has an impressive collection of ideas for how to use Legos as an educational tool.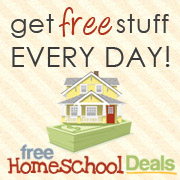 We at Smart Apps love the deals and ideas from
Free Homeschool Deals
. I swooned when I found they have a whole category on their website
devoted to Legos
! They have TONS of free Lego themed printables, curriculum ideas, as well as discount alerts. They even have a Pinterest board dedicated to
Lego Homeschooling
. Be still my heart!
After you get through all the great Lego ideas from FreeHomeschoolDeals, be sure to visit our sister site, Smart Apps for Kids' list of
thirty-four FREE LEGO® apps
. For the android users, Smart Apps for Android has a
list of twenty-two FREE Lego apps
as well.
***
Rachel H still remembers the first Lego set her dad ever bought her. She is pretty sure one of her siblings snagged it after she left for college.